Laura's Malas are Handmade in Sedona
with Love, Peace & Gemstones
Thank you for visiting my mala page. Laura's Malas are available to view and purchase on Etsy!
My malas are inspired by nature and handmade in Sedona with the purest intentions of love and peace. I enjoy using my heart, hands and healing gemstones to create beautiful, unique wearable pieces of art and meditation garlands. In addition to the amazing variety of healing properties, one of the wonderful features of gemstones is that no two are alike, making malas truly original and one-of-a-kind. I create my malas with a knot between each bead and use 108 beads (see below if you are interested in the significance of 108 beads).
My hope is for you to resonate with and be inspired by a mala.
A poem from Mala of the Heart, written by Mirabai, a female poet of renown in the 16th century
I know a cure for sadness:
Let your hands touch something that
makes your eyes
smile.
I bet there are a hundred object close by
that can do that.
Look at
beauty's gift to us—
her power is so great she enlivens
the earth, the sky, our soul.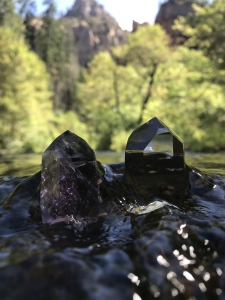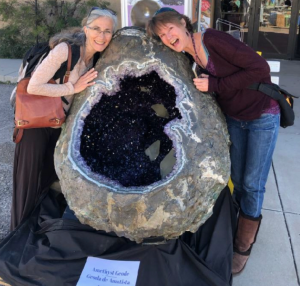 Helena & Laura at Tucson Gem Show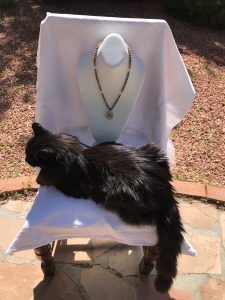 Petey my Photo Studio Assistant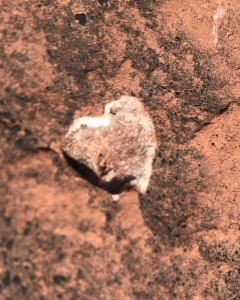 Natural Quartz Heart in Sedona Red Rock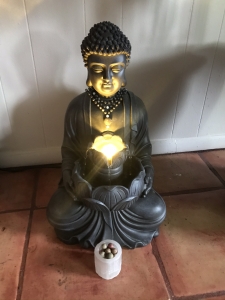 Buddha with Handmade Mala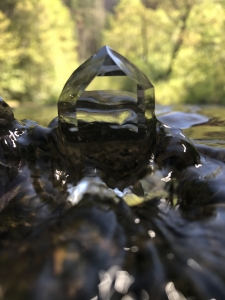 About Malas and Gemstones
Throughout the world, a sacred strand of 108 beads, called a rosary or a mala, is used for daily meditation and prayer. 'Mala' is a Sanskrit word for "meditation garland". Malas were created in India 3000 years ago and are used by yogis and spiritual seekers to help keep their minds focused while meditating. Mantras and chants are typically repeated hundreds or even thousands of times and the mala is used so one can focus on the meaning or sound of the mantra rather than counting its repetitions. One repetition is usually said for each bead while turning the thumb clockwise around each bead.
Gemstones and crystals have been used throughout history for their healing qualities. Many believe each stone emits a certain energy which can have a beneficial effect on our well-being. Wearing malas made with gemstones can accentuate the gemstones healing, emotional, mental, physical and spiritual qualities.
The significance of 108 beads is open to interpretation. At the highest level, 108 represents the nameless supreme that is beyond worldly existence. This number symbolizes the divine and sacred connections in our arts, sciences, mathematics, philosophies, and religions. In mathematics and sciences, there are numerous references to this auspicious number. For example, 108 is a multiple of the essential numbers 2, 3, and 4 as well as a product of 1, 2, and 3. Astrologically, the nine planets multiplied by the twelve signs of the sun of the zodiac is 108. The number also represents the relationship between our planetary home, the earth, and the everlasting sun. (Mala of the Heart~108 Sacred Poems, edited by Kate Vogt and Ravi Nathwani) Some believe there are 108 stages on the journey of the human soul, others believe enlightenment is attainable by taking only 108 breaths a day while in deep meditation. Another belief is based on our chakras, that there are 108 energy lines connecting to the heart, one of them being the path to self-realization. Some choose to recite their mantra in Sanskrit, the Sanskrit alphabet has 54 letters and each letter has a feminine aspect and a masculine aspect, totaling 108.
Learn more about Services, read Laura's story, and hear from Laura's clients.